LA Lawyers Philharmonic & Legal Voices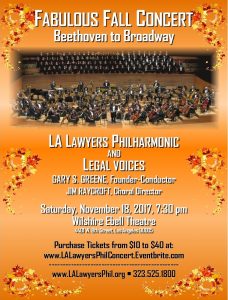 Gary S. Greene, Esq., Founder-Conductor
Jim Raycroft, Choral Director
Saturday, November 18, 2017
7:30 PM
Wilshire Ebell Theatre
4401 West 8th Street
Los Angeles, CA 90005
Program
You don't want to miss this FABULOUS program featuring the Los Angeles Lawyers Philharmonic and its chorus, Legal Voices, under the baton of its Founder-Conductor Gary S. Greene and Choral Director Jim Raycroft at the historic Wilshire Ebell Theatre. Highlights include the beautiful second movement of Beethoven's 7th Symphony to selections from Broadway musicals including My Fair Lady, Camelot, Gigi, Fiddler on the Roof and more. Also, featured will be the exciting and inspiring Magnificat by John Rutter with sensational sopranos Roxy Darr, Allegra Gorchynski and Mary Stanford as soloists. View a flyer.
Tickets
Tax Deductible: 50% of the concert ticket price is a donation to the LA Lawyers Philharmonic, a 501(c)(3) nonprofit organization.
Parking
Free parking is available at the Wilshire Ebell Theatre lots and on nearby streets.