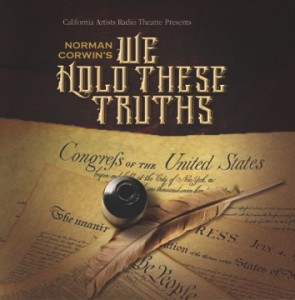 We Hold These Truths was produced in 2016 by Peggy Webber, founder of California Artists Radio Theatre, with an all-star cast and the Bernard Herrmann music performed by the Los Angeles Lawyers Philharmonic under the baton of Founder-Conductor Gary S. Greene. Legal Voices member Ken Freundlich sang an 18th century song in the broadcast. This award-winning recording commemorates the 225th anniversary of the Bill of Rights and the 75th anniversary of Norman Corwin's iconic December 15, 1941, live radio broadcast of We Hold These Truths that featured the NBC Symphony Orchestra with Herrmann conducting his score. Leopold Stokowski conducted the New York Philharmonic in the National Anthem, and President Franklin Roosevelt spoke from the Oval Office in the White House. The original recording also starred actors Orson Welles, James Stewart, Lionel Barrymore, Marjorie Main and other stars of that era. Today's recording features Samantha Eggar, Norman Lloyd, Leonard Maltin, Charles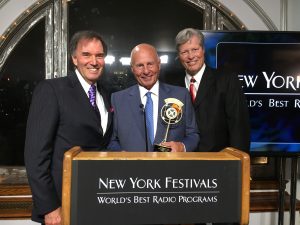 Shaughnessey, Michael York, Shelley Long, Rene Auberjonois, Monte Markham, James Lancaster, Phil Proctor, Alice Maltin, Melinda Peterson, Susan Fallendar, Tom Williams, John O'Callaghan, Joe Flood, Richard Herd, Herb Ellis, HM Wynant, Michael C. Ford, Paul Keith and John Harlan.
The remake of We Hold These Truths was aired across the country on Sirius XM in December 2016 and then on attorney Thomas V. Girardi's syndicated national radio show, Champions of Justice, in January 2017. On June 19, 2017, the broadcast that aired on Champions of Justice won a Gold Medal in the category of history in the prestigious New York Festivals International Radio Program Awards in New York City. Nominees came from more than 30 countries. Maestro Greene, Girardi and Dave Deno, a member of Legal Voices, and producer of Girardi's legal radio program, accepted the prestigious award.
The CD is $20*.
*$10 may be tax deductible. California Artists Radio Theatre is a 501(c)3 nonprofit corporation.