Purchase a tax-deductible ad in our printed program for one of our upcoming concerts:
1) Choral Concert on Saturday, March 10, 2018: Take out an ad in our printed program for our choral concert. We only have space for a few ads. A half-page ad is available for $125. Please submit camera-ready artwork in black and white or grayscale in jpg format, 300 dpi. The size is 4.5 inches (wide) by 3.625 inches (tall). Please let us know ASAP.
2) Disney Hall Concert Extraordinaire on Saturday, June 16, 2018: You may purchase an ad in our souvenir program that will be handed out to more than 2,200 people at our Annual Concert Extraordinaire on Saturday evening, June 16, 2018, at Walt Disney Concert Hall and then distributed at bar associations, law offices and concerts throughout the year. Ads are available from $300 to $1,200. (See ad rate/specs card below for more details.)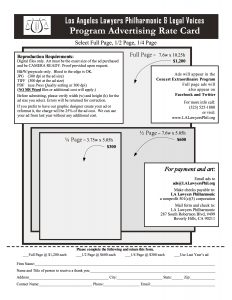 Download this ad rate/specs card for details about taking out an ad in our program.
Send us a message. Please include your phone number.