Purchase a tax-deductible ad in our printed program for one of our upcoming concerts!
We have limited space for ads in our Fabulous Fall Concert printed program that will be distributed to nearly 1,300 people on Saturday, November 18 at the historic Wilshire Ebell Theatre in Los Angeles. Half page ads (approx. 5 by 4 inches) are available for $250 each. If you are interested, please email ads@LALawyersPhil.org.
You may purchase an ad in our souvenir program that will be handed out to more than 2,000 people at our premiere anniversary concert in Spring 2018 and then distributed at bar associations, law offices and concerts throughout the year. Ads are available from $300 to $1,200. (See ad rate/specs card below for more details.)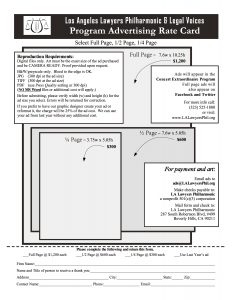 Download this ad rate/specs card for details about taking out an ad in our program.
Send us a message. Please include your phone number.