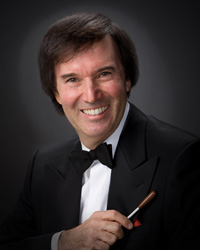 Gary S. Greene, Esq., — an attorney for more than 40 years, a violinist and conductor — is the Music Director of the Los Angeles Lawyers Philharmonic, Legal Voices and Gary Greene, Esq. and His Big Band of Barristers. He earned his BA summa cum laude from UCLA, and he was awarded membership in Phi Beta Kappa.  He received his JD from Loyola Law School. He is the founder-conductor of the LA Lawyers Philharmonic and its chorus, Legal Voices. He is also the founder and bandleader of the Big Band of Barristers. Also, Greene has served as concertmaster and conductor of the Jr. Philharmonic, the acclaimed young people's symphony orchestra founded in 1937 by his late uncle, Dr. Ernst Katz.
Greene has led the LA Lawyers Philharmonic, Legal Voices and the Jr. Phil in most major classical works and has conducted popular pieces for legendary performers including Edward Asner, Jordan Bennett, Debby Boone, Pat Boone, Richard Chamberlain, Kevin Early, Robert Goulet, Peter Graves, Florence Henderson, Carol Lawrence, June Lockhart, Brock Peters, Stefanie Powers, Debbie Reynolds, Mickey Rooney, Sha Na Na, Dick Van Dyke and Michael York.
Maestro Greene was named the 2010 Person of the Year by the Metropolitan News-Enterprise for not only entertaining the legal community but also for having done much to unify it. He was recognized as "A Man with a Briefcase and a Baton — the Only Lawyer from Whom Judges Take Direction." In 2012, Greene was presented with the prestigious Board of Governors Award from the Beverly Hills Bar Association.